The Outdoor Republic
"Outdoor Republic is more than just an apparel brand, it's a lifestyle.  It's about real people enjoying real life in the outdoors! Outdoor Republic apparel was built off of a passion for living an active life in the outdoors.  Whether you're a hobby fisherman, or a professional fishing guide; whether you get down and dirty in the mud, or you prefer to read a good book in the outdoors while your kids play in the mud.  If you enjoy hiking, golfing, snow skiing, or just relaxing with your feet in the sand at the beach…..you are a part of the Outdoor Republic! 
At Outdoor Republic, we represent family (memories made spending time with family outdoors….we represent friends (memories of the outdoor adventures you have gone on with friends…..we represent helping a fellow neighbor out when they're in need.  We are about the old way of life….the simple life!  Finally, and most importantly, we are an apparel brand built around our beloved God! Our God, who created the outdoors in which we so love to enjoy! 
Join the Outdoor Republic with one of our signature "OR" logo products, or one of our uniquely designed UPF performance shirts which contain hidden elements in the design.  Take a peek through our different apparel and headwear designs today, it will be hard to pick a favorite! 
We want to provide you with comfortable and stylish apparel to wear on your next outdoor adventure.  We offer affordable clothing for men, women and children.  Our custom product line ranges from UPF performance shirts, tee shirts, hats and decals.  Browse our selection today, and become a part of the "Outdoor Republic" family!"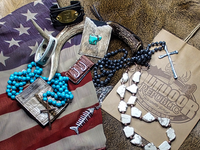 Shop our Accessories
Browse through this stunning collection to find your next favorite find! Outdoor Republic's Accessory Collection, where our passion meets your passion.
Shop Now!