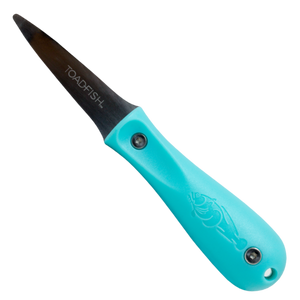 Toadfish Put 'Em Back Oyster Knife
Regular price $38.00 $38.00 Sale
The Put 'Em Back oyster knife was developed from generations of oystermen.  It combines all the elements of a traditional oyster shucker with a modern look at ergonomics and the physics of shucking an oyster perfectly and safely. This artfully crafted multiple purpose knife will shuck raw or steamed oysters and its sharp blade will cut them out of the shell with ease. Once you shuck an oyster with a Toadfish™ 
oyster knife
 blade, you will know why folks call these knives 'the most thought out oyster shuckers ever created'.
Handle made from post consumer recycled plastic.
Japanese stainless steel, stain-free, rust-resistant stainless steel blade that is bent on the tip section allowing raw oysters to 'pop' open from the hinge.
Ergonomic thumb print handle design eliminates hand slippage making shucking safer.
Use two allen wrenches, 2.5mm to tighten as needed
Blade through design creating one of the most durable oyster shuckers on the market.
Multi-purpose oyster knife designed to shuck raw and steamed oysters.
Sharp edges on the tip section to cut oysters out of the shell.
NOT designed for opening raw large 'rock' Gulf Coast oysters.